The history of the house located Galaktioni street 20
In one of the oldest and most beautiful district of Tbilisi, Sololaki, which is famous for its architectural and historical buildings, there is  a short street named after greatest Giorgian poet Galaktion Tabidze,  where  is a two-storey apartment house built by a German architect Otto Simenson – in 1859, ordered by  Yagor Tamamshev. In this house lived three generations of the Smirnovs family, the bearers of the Georgian gene, with an interesting and very difficult fate. In 1876,  granddaughter of Yagor Tamamshev,  Liza Tamamsheva got married to Mikhail Smirnov, and  gave this house as a dowry from shis grandpa. Mikhail Smirnov  was sent from Petersburg to Tbilisi at work with Vorontsov. 1874 Smirnov took from Petersburg to Tbilisi the "Smirnov's treasures" and things belonging to his mather Aleqsandra Rossety. Later, avter his marriage,  a house on Galaktioni Street 20 began to live a "salon life", typical of Alexandra's ordinary life. Many famous people visited this house at different times. All three generations of the Smirnovs family,  occupy a significant place in the scientific and cultural spheres of Georgia. Later in 1984 the last representative of Smirnov, Mikhail, bequeathed the house with all family relics to Georgia.
B I O G R A P H I E S
Mikhael Smirnov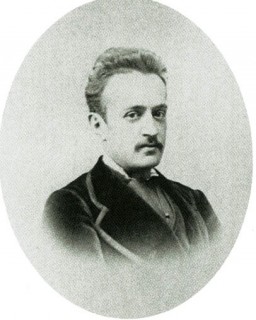 Various epochs, artistic styles and genealogical roots dating back to the depth of the centuries and reflecting the Georgian, Russian, Armenian, Italian, German, Polish and French intersections of that kind are tightly interlaced in "The Smirnovs' House" – situated in Galaktion Tabidze St, 20 (formerly – Gani St; later – Akaki Tsereteli St), in Tbilisi .
The Smirnovs might say: A. S. Pushkin's words: "Every now and then, we come across my ancestors names in the history of our country." The youngest child – Mikhael was born in the family of the governor Nicholas (Nikolay) M. Smirnov (1808 – 1870) and his wife Alexandra O. Smirnova-Rosset (1809 – 1882), in Kaluga, in the summer of 1847. The newborn baby's father, Nicholas M. Smirnov, a representative of an old family of Moscow, on his mother's side, was a descendant of L. Buchvostov – "the first Russian soldier" serving in the army of Peter I (Peter the Great). The sovereign ruler appreciated his devoted servant who had been accompanying him in all the military operations. The Smirnovs preserved the emperor's gifts with great love and care, and willingly showed them to their friends and acquaintances.
In 1855, an outstanding writer, poet and dramatist, Jacob Polonski, was invited by the Smirnovs as their son's tutor. During the daily communications with his pupil, Polonski frequently spoke of the years spent in Georgia (1846 – 1851) – the years having greatly influenced the poet's life and creative work as well. The journey around the country, its distinctive and original folklore, its inspiring history and ethnography – all that had been often discussed during the conversations with young Smirnov. The narrations greatly impressed Michael, as in his veins, too, flowed the Georgian blood.
                                                                                                                             Alexandra O. Rosset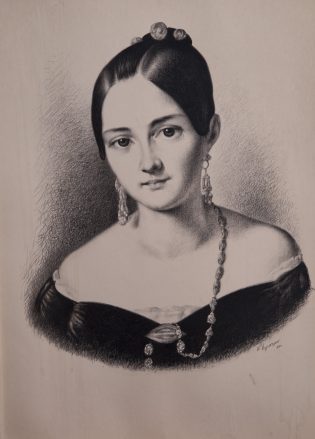 His mother, Alexandra O. Rosset, spent her childhood in the estate of her grandmother – a Georgian lady, Katherine (Ekatherine) E. Tsitsishvili-Lorer – in the Ukrainian settlement called Gramaklea. Katherine E. Tsitsishvili was a descendant of an old aristocratic family. Her father, Evsey Tsitsishvili (born in 1700), was a good acquaintance of the well-known Georgian poet David Guramishvili.
The Smirnovs' son, Michael, was too bright and educated for his age. The contemporaries mentioned his mother's great influence over him. He was fond of literature, read the modern magazines, but entered the Novorosiisk University in Odessa and chose the natural-scientific faculty. His name stood in the "golden list" of the University. In 1867, E. A. Andreevsky mentioned in his notes that Michael Smirnov was to take an examination as a candidate (he was just 20 then) and longed for working in the Ministry of Foreign Affairs, but as luck would have it, he got a post as an official of special mission in Tiflis, under the rule of the governor of the Caucasus. Georgia became a wide field for his activities, and he, too, like his tutor I. P. Polonski, paced the whole country – the homeland of his ancestors. Daily he daily observed the climate of the place, took down notes about the time of blooming of various plants, made friends with local scientists; was in correspondence with outstanding Russian and West European scientists, became a member of many charity and scientific societies: at different times, he had been a member of the Medical Society, of the Caucasian Amateur Archaeologists' Society; besides, he headed the Society for Restoring the Orthodox Christianity in the Caucasus; was a member of the Caucasian Department of the Emperor's Russian Geographical Society, of the Caucasian Society of History and Archaeology, of the Agricultural Society, etc.
Rhododendron smirnowii  1884
Truly surprising are his activities in various branches of science – from linguistics and history to anthropology, geography and botany. Many publications in Georgia, Russia and Europe were based on his observations, collections of plants; on the anthropological material obtained by him while investigating the skulls from the Samtavro Cemetery near Mtskheta; on his phenological observations, on the rich ethnographical, folklore and linguistic material gathered by him. He was in correspondence with Miklukho-Maklai and Paul Brock, asserted the rights of the representatives of various races, and stressed the point that Georgia had been inhabited by the highly developed nations, since the old times. Gustav I. Radde, the man heading the Caucasus Museum in Tbilisi for almost 50 years, wrote: "Till 1883 my plants were piled in the cardboard boxes just according to the areas and regions, but Smirnov has been visiting my house this summer, and we both started to systematize and label my moderate supplies. It took us several months to arrange the material, and Smirnov's zeal for botany seemed obviously increased thanks to that work" . Michael Smirnov enriched that branch of science with several tens of plant-endemics, and their Latin definitions always preserved the names of their discoverers. M. N. Smirnov's herbarium is included in the materials of the National Museum of Georgia. Having generalized all the observations, Michael Smirnov attempted to systematize them.
Since 1884, he had been publishing articles in "The Messenger of Defenders of the Moscow Nature", and later, in the same edition, he presented a list of plants that were to enter the monumental work "The Caucasian Flora." M. N. Smirnov may be considered the initiator on dividing the Caucasus in geo-botanical regions. He worked together with the staff of the Botanical Garden and established its rich library; he even wished to plant an Alpine Botanical Garden in the Caucasus – the idea undoubtedly unrealizable in those times, and his dream, too, never came true. In one of the copies of "Revue de anthropologie" (Paris) M. N. Smirnov published an article about the ethnography of the Caucasus, where he mentioned that the European countries were not well informed about the peoples inhabiting that region, about their languages and traditions. In the above-mentioned article, he defines the meaning of ethnography, ethnogeny and ethnology, and points out the necessity of the combined investigation of the Caucasian ethnography; besides, he quotes from the works of the antique authors and his contemporaries (Uslar, Mueller, etc). There he speaks about Vakhushti Batonishvili's writings, and mentions that A. Tsagareli's "Observations on the Georgian Grammar" is an excellent work. In 1881, the Fifth Conference of the Archaeologists of the Whole Russia was held in Georgia, the participants of which were such outstanding scientists as count A. S. Uvarov, countess P. S. Uvarova, countess P. A. Uvarova,P. A. Viskovatov, I. V. Tsvetaev, N. I. Kostomarov, E. G. Weidenbaum, D. E. Chubinashvili, Rudolf Virkhov and many others. M. N. Smirnov's participation in the conference, his making friends with well-known scientists confirms the fact that his decision to dedicate himself to the science was truly justified. During his work with various societies he got acquainted with the academician V. G. Abikh, with R. E. Trautfetter and Ch. Ch. Steven, an architect A. F. Zaltsmann, prince S. N. Trubetskoy, G. D. Sharvashidze , etc. One of the first "Caucasists", M. N. Smirnov is known in the history of science as "Smirnov the Caucasian."
In 1876 Michael Smirnov married Elizabeth M. Tamamsheva (1854 – 1919) and in December of the same year, their only son, George was born (1876 -1964). Elizabeth was a descendant of an old Armenian family; her grandfather
Egor I. Tamamshev was awarded the title of the member of gentry, became an honored citizen in the beginning of the XIX c. and acquired great wealth during the wars with Turkey and Persia. Egor Tamamshev was known one
of the richest men in Tbilisi; the same can be said about his brother, Gabriel  Tamamshev.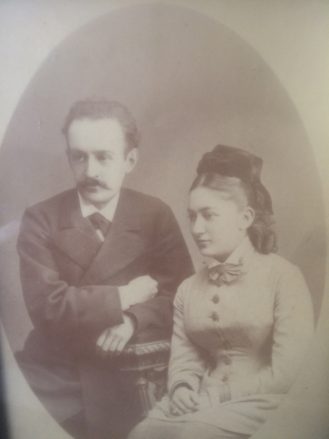 E. I. Tamamshev used to invest his capital in houses, shops and building plots. In 1859, he built a house on one of such plots (namely, in Gani St.) according to Otto Simonson's project. Later the very building became the Smirnov's property.
In 1876, the parents provided the dowry for Elizabeth – 100 thousand rubles (that capital included jewellery, costing 5. 000 rubles and "the garments and other necessary articles, the price of which made 80 thousand rubles." It was specially stipulated that the "lass Elizabeth" would no longer participate in the further allotment of the property, but in 1882, when her sister, Katherine, married Nikoloz (Kola) Eristavi, the family again divided their belongings.
In October of 1882 Barbara Korganova handed down the house situated in Gani St, 24 (now – Galaktioni St, 20) to her daughter, Elizabeth, together with a building plot of 128 sq. sazens (old Russ. measure of length). According to the tradition of Peterburg beauty, Alexandra Smirnova-Rosset, literary and musical evenings were often held in his house  and at different times, it had been visited by such outstanding people as P. Chaikovski, I. Aivazovski, A. Rubenstein, Ilia Chavchavadze (a Statesman and writer), K. Abashidze (a critic), D. Sarajishvili (a maecenas), I. Javakhishvili (the founder of the University), P. Melikishvili (the first rector of the University), E. Lansere,  T. Tabidze (a poet), G. Leonidze (a poet).
Today on a modest pianoforte in the house of Smyrnovs next to the photograph of Ferenc leaf is a picture of Pyotr Tchaikovsky with an autograph, hi  was presented to Elizaveta Smirnova-Tamamsheva at the first arrival of the composer in Tbilisi.
Mikhail Smirnov died young. He died at the age of 45, after a long illness, in Odessa, (1847-1892)
(source, "chveni mtserloba" # 6, 2006, March 17th, p.28, Shorena Lebanidze )
LIZA (ELIZABETH) TAMAMSHEVA-SMIRNOVA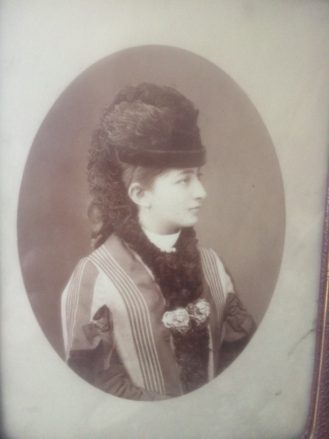 Lisa (Elizabeth) was a member of the ancient Armenian dynasty. her grndfather, Iagor Ivanovich Tamamshev was granted the title of "personal noble". he and his brother Gabriel were considered wealthiest merchants of tbilisi. in the begining of  XIX century, Iagor was given the title of honorary citizen.
in the 1851, by the order of Vorontsov, Gabriel built the first theatre in caucasia, on the Yerevan square (now freedom square).
in 1959, Iagor Tamamshev built a dwelling house on his land(now called G.Tabidze N.20), according of the project of Oto Simonson. we don't know much about Iagor, but it is known from documentaries that his son, Michail (Liza's father), was married to Barbare Vasilevna Yorganova(Yorganashvili). they had four children; two daughters – Elizabeth and Ekaterina and two sons – Vasili and Giorgi. in 1876, Elizabeth married Michail Smirnov, and amogst other things, she got the house as a dowry, in which now "Smirnov Museum" is sited.
literary and musical nights were often held in their house. their guests were: P. Chakovski, K.Abashidze, D.Sarajishvili, P.Melikishvili, E.Lansere, T.Tabidze, G.Leonidze and many other famous people. in the museum, there is displayed the signed photograph of Chaikovski, which he gave to Liza during his first visit in Tbilisi, in 1886.
Lisa Tamamsheva and Mikheil Smirnov's coexistence were quite dramatic. Mikheil Nikolaevich turned to science. Elizabeth was not interested in her husband's activities. Liza hated the world of Michael. Lisa's emotional feelings could no longer be controlled. For Mikhail Nikolaevich, the open relations of Lisa and the Grand Duke (Nikolai Nikolaevich Romanov) became unbearable, he packed his things and told the family about his departure to Central Asia, after Mikhail Nikolaevich, in Tbilisi, no one saw.
Elizaveta Tamamsheva returned to St. Petersburg in the late 1890's and settled on Vasilievsky Island. where she was visited by her son George Smirnov, a student of St. Petersburg University, whom she had not seen for a long time. It happened here first and last face-to-face meeting of Nikolai Nikolaevich Romanov and Georgy Smirnov.       Nikolay Nikolaevich Romanov extended his hand to George and asked: "I hope you know whose son you are?", George blushed and answered: "I am sure that I am my father's son". After university, in 1900, George went to Leipzig for an internship, after which he will return to Georgia. 
the entire family of Tamamshev was associated to art. brother of Liza, Vasil Tamamshev, was the director of Tbilisi State Theatre ( 1907-1917). he often travelled to Moscow and Petersburg with his spouse Elizabeth Zubalova (Zubalashvili), who was a famous singer. they invited foreign performes to tbilisi. the painting "Winter Landscape" which is painted using chalk and coal, is kept in museum collection.
Vasil had been been vice-chairman of the Caucasian fine arts encouraging society. in the museum there are stored sketches of Ovanes Avaziani (Aivazovski), that he drew during his journey in caucasia. out of 15 paintings, five of them was given to Ekaterine, Liza and Vasil, two of them were given to Liza.
Sister of Liza, Ekaterine, was married to Kola(Nikoloz) Eristavi, who was niece of Nikoloz Baratashvili. the museum also has Ilia Chavchavaze's letters to Kola Eristavi. part of "Tamamsheva archive" was given to the "Literature museum" in 1937.( two dairies and correspondence of A.Amilakhvari, O.Bariatinski,  M.Orbeliani, Baron Uinsper and others.)
Kola Eristavi died in 1915. in 1922, Ekaterine published one-volume book of N. Baratashvili at her expenses. she was helped in this by K.Abashidze, I.Gedevanishvili, I.Grishashvili, G.Tumanishvili, G.Vezirishvili, S.Phircxalava, G.Laskhishvili, G.Juruli, D.Shevardnadze, G.Robaqidze, I.Javakhshvili, M.Thoidze.) the book also included the works of Pirosmani, Gudiashvili, Gagarini, Thoidze, Sidamon-Eristavi and photos and facts, related to Baratashvili.
After the revolution of 1917, the Grand Duke Romanov migrated abroad with his family, Lisa remained on Vasilevsky Island,  where she was seized and thrown out into the street.  Homeless, crazy Lisa wandered through the streets of St. Petersburg,  her learned the Tbilisi-Armenians, they sheltered her and placed in a shelter for mentally ill.
Elizabeth Tamamsheva-Smirnova died lonely in 1919 in St. Petersburg in a shelter for the mentally ill people.
(source, "chveni mtserloba" # 6, 2006, p.29, March 17th, Shorena Lebanidze)
Alexandra Osipovna Smirnova-Rossett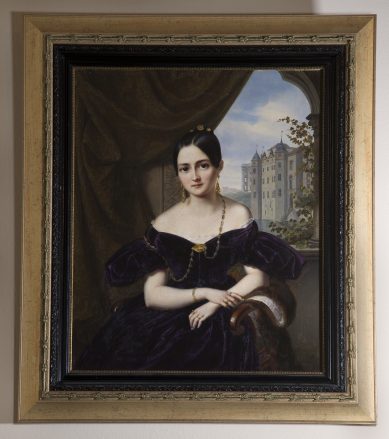 (1836 – A. Remi, Berlin)
Alexandra Osipovna Smirnova – Rossett was born in Odessa on March 6, 1809. The Rosset family, apart from Alexandra's eldest daughter, also had sons. Alexandra's brothers Alexei, Klimentiy, Arkady and Osip Ivanovich Rosset. Arkady once courted his sister-in-law. Pushkin and later worked as governor of Vilensk and civil governor of Minsk. Alexandra's father, Osip Ivanovich Rosset, came from an old French family, distinguished himself by bravery during the assault and capture of Ochakov and was noted by Alexander Vasilievich Suvorov, along with a distant relative and friend of the Duke of Richelieu, the latter was godfather of Alexandra and leaving for France, saying goodbye to the king, predetermined her acceptance into the institute and the maid of honor of the queen. Osip Ivanovich Rosset was the commandant of the Odessa port. died during the plague in 1814. Mother – Alexandra, Nadezhda Ivanovna Lorer, a Frenchwoman by her father, a Georgian by her mother (the family of princes Tsitsishvili) was a beauty. After the death of her husband, Osip Ivanovich, younger than her husband and beautiful Nadezhda Ivanovna Smirnova-Lorer, married again the second time for Colonel Arnoldi (1780-1850).
The ancestors of the Laurers were French Lorrains from Lorraine who had relocated as a result of religious persecution to Germany, where they quickly became Germanized. Grandfather Ivan Ivanovich Lorer, a colonel, came to Russia in the early 1750s with a small detachment of Holstein soldiers Peter III. After his resignation – a nobleman of the Kherson province, an adviser to the Ascension governorate, later Kherson vice-governor. II Lorer was married to a Georgian woman, Princess Ekaterina Evseevna Tsitsishvili (Alexandra's grandmother). Tsitsishvili (Tsitsianov) is a genus originating from the most ancient Kartlin and Kakhetian princes, who were related to the female line with the Georgian kings. The confusion of different nationalities brightly affected the character of her entire family.
Descendants: Nikolai Ivanovich Lorer is a Decembrist; Alexander Lorer is a cavalryman, an ulan, wounded under Austerlitz; Dmitry Lorer is a retired captain; Ekaterina Lorer, married to Artem Yefimovich Voronovsky; Elizaveta Lorer, married to the cornet Sergey Efimovich Kakhov; Nadezhda Lorer (um.1825) in the first marriage to Osip Ivanovich Rosset (daughter-famous Alexander Smirnova-Rosset), in the second marriage to Ivan Karlovich Arnoldi; Evdokia Lorer, married to Vantos Ivanovich Dragnevitch and Vera Lorer is married to Mazarati.
Alexandra Osipovna herself said about her origin: "Georgian grandmother, grandfather-prusak, father-French, and I myself probllavnaya and the heart of the Russian".
The mother of Alexandra Smirnov-Rosset, Nadezhda Lorer, after the second marriage, sent the children to the mother of Princess Ekaterina Yevseyevna Lorer-Tsitsishvili to be raised in Gromoklei. Later, the children of Nadezhda Nikolaevna Lorer are studying in St. Petersburg. Alexander in the Catherine Institute. The brothers are in the pagan school.
(A.Smirnova-Rosset by O.Kiprenskiy)
By 1820, at the end of the institute, Alexandra Osipovna was completely orphaned, losing not only her mother, but her beloved grandmother. But by this time Empress Maria Feodorovna decided her fate, appointing a seventeen-year-old orphan her maid of honor. and after, in 1826 and Alexandra Feodorovna. The circle of admirers and friends of Alexandra Osiprvna Rosset was composed by famous writers and poets: AS Pushkin, VF Odoevsky, PA Vyazemsky, M.Yu. Lermontov, Zhukovsky and many others. In the Winter Palace, ties were set up, which Alexandra Osipovna often used to intercede for her disgraced relatives and friends: she would be one of the first to break the ban and on her knees she would ask to soften the verdict to my uncle, the Decembrist N.I. Laurer. All her life she will stick to the thought once written in a diary for 1845: "My business is to ask, and it's not a shame to ask for others, for myself, thank God, I do not ask anything."
Uncommon, a lot and seriously reading, well-know Russian (a teacher of Russian literature in the Catherine Institute-PA Pletnev) and at the same time a young beauty, witty and simple in communication attracted talented and famous people. Her financial situation in those years was difficult, Rosseti did not have a livelihood, since their mother bequeathed their father's estate to their children from their second marriage.
February 11, 1832, on the advice of the Empress Alexandra Fedorovny, a non-acquaintance of Alexander marries an official of the Ministry of Foreign Affairs, Nikolai Mikhailovich Smirnov. (1807-1870)
It was a brilliant party, a marriage of convenience. Subsequently, Smirnova said that she loved her husband no more than friendly.
In the winter palace, getting closer with VA. Zhukovsky, Alexander enters the house of the Karamzins. Where the first love of Alexandra with AI Koshelev breaks out. But because of Alexandra's closeness to the court, lovers part. Many Russian poets paved the way to the heart of Alexandra. Chanting her "Circassian eyes", then calling her "The Venus of the Neva". From the poem dedicated to her, one could, if desired, make up a whole poetic collection. Pushkin and Alexandra met in 1828. They met at a ball at EM Khitrova (daughter of Kutuzov). Alexandra Rosset was remarkable for her remarkable intelligence and beauty, her sharp judgment. It is for this reason that Pushkin called it "The Thrill of the Knights of the Knights". The friendly relations between Alexandra Osipovna and Pushkin began in the summer of 1831, when the poet and his young wife lived in the royal village. Alexander Sergeevich read Rosset new works, cherishing her opinion. At that time, the newlyweds Pushkin often met, rode together in a stroller. The beautiful and charming Alexandra Osipovna was only three years older than 19-year-old Natalia Nikolaevna Goncharova (Pushkina) and they became very friendly with her. Soon after the wedding of Alexandra and Nikolai Smirnov, on March 18, 1832, Pushkin will present the newlywed album with a poem written on the cover, which later became famous "In anxiety motley and barren …". At the very beginning of their friendship, Alexandra Osipovna with dignity managed to appreciate the subtle nature of Pushkin and the delicate attitude to it. Pushkin highly valued her brilliant intellect and thinness of a subtle nature. The news of the death of the great poet caught Alexandra in Paris. This was her spiritual tragedy.
On her return to her homeland, in 1837, in the salon of Karamzin, Alexandra Osipovna got acquainted with Lermontov. The desire to get closer to Alexandra, like all poets, did not escape Lermontov, devoting her a sad poetic color.
Later, Alexandra Osipovna acquainted with Gogol. In the fact that Gogol was in love with Alexander Osipovna. Many did not doubt this. But everything was completely different with Gogol. If there was love, it was of a completely different kind, purely spiritual. Inspired by Alexandra's childhood memory of spent childhood in Gramachele and Gogol, she awakened the good memories of a distant childhood. No wonder one of the letters to Alexander Osipovna (November 29, 1842) Gogol signs as follows: "Loving your soul without memory." Alexandra Osipovna Sminova-Rosset, as well as with other Russian writers, was friends with Gogol, and even rumored that the writer was not indifferent to her. Alexandra Osipovna and Gogol met at a dacha in Zhukovsky. Gogol was introduced to her by Pushkin.
(A.O. Smirnova-Rosset 1837-Parizh, by Franz Xaver Winterhalter)
Gogol often visited the Kaluga governor, Rosset and gave her advice on how to arrange a life in the province. In Kaluga, Nikolai Vasilyevich began to work on the second volume of Dead Souls. In the second volume Chichikov is engaged in forgery of the will. They say that the plot was inspired by the case of the Kaluga governor, and Gogol learned the details from the letters of Alexandra Smirnova-Rosset. And it was in the Smirnova-Rosset salon in the summer of 1837 that Gogol read the first chapters of Dead Souls. "No one will take Gogol's place in my heart, I will never have such a faithful, faithful, reliable friend," wrote Smirnova-Rosset Zhukovsky. Bright mind and charming appearance of Alexandra Osipovna in place with an independent mind and clear judgment poured into her circle a lot of friends. Even the Emperor noted that "Alexandra Osipovna, I began to reign over Russia shortly before you reigned over the Russian poets."
Note that in addition to the bright external beauty, she possessed many talents and phenomenal memory. It cost her nothing to study the Greek in a few weeks, she spoke Ukrainian as a child, later she mastered French, English, German, Italian, Hebrew. She often plays four hands with V. Odoyevsky, the brothers Vielgorsky, takes music lessons from Beethoven's student Madame Girt, composes romances on the verses of the German romantic poet Uland.
Her knowledge of the exact and natural sciences is amazing. At the same time she is fond of theological questions, reads the fathers of the church in Hebrew and Greek, and if we add to this the sharp tongue, the gift of an enthralling and well-informed storyteller with a subtle sense of taste (not the gift of her best Russian poets and writers!), to gather around themselves outstanding people, independence in judgments and actions, then we face a portrait of one of the most brilliant women of the nineteenth century, whose Petersburg literary salon united all the best in Russian culture. According to the famous historian V.O. Klyuchevsky: "Nicholas I in Alexandra Osipovna in the living room felt and behaved as abroad, a free-thinking European, gentleman, Russian autocrat, without ceremony …". It is not for nothing that the Emperor once stressed: "Alexandra Osipovna, I began to reign over Russia shortly before you began to reign over Russian poets."
An outstanding beauty of Petersburg and the muse of many poets, Alexandra Osipovna Smirnova-Rosset died in July, 1882 in Paris. Although by testament on September 9, she was buried in Moscow at the cemetery of the Don monastery. The funeral was attended by his son Mikhail and grandson Georgy Smirnov.
(Source: 1. "chveni mtserloba" # 6, 2006, March 17, article 28. Shorena Lebanidze, 2. "The House of Smirnovs is a gift of Georgia", 2009)
Nikolai Mikhailovich Smirnov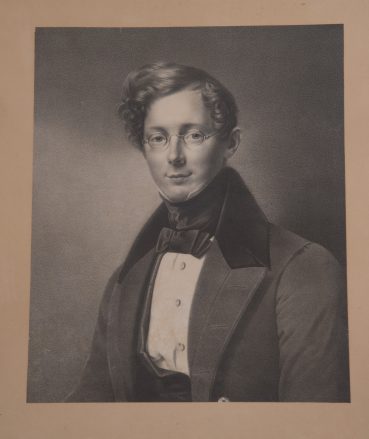 (N.M. Smirnov, lithography 1835 by Werner)
The husband of famous lady of Peters-burg, Alexandra Rosset, was Nikolai Mikhailovich Smirnov (1807–1870),   a member of old Moscow old noble house. their marriage was loveless. it took 2 years of thinking and persuasion of empress Alexanda Fiodorovna for her to marry him. they got married in January 1832.
Nikolai, the son of a wealthy landowner Mikhail Petrovich Smirnov, became an orphan early on. at the age of 16, he was sent abroad with tutors and servants.
Nikolai Smirnov had an interesting Career:
Statesman and diplomatist, secret advisor. was Kaluga governor(1845-1851 ).
Parents – Mikhail Petrovich Smirnov and Feodosia Petrovna Bukhvastova.
Nikolai Smirnov graduated from Moscow University.
during 1825-1828 he was serving in foreign board of Italy mission; in 1833, Smirnovs settled in Peters-burg, at the "Bolshaya Konyshennaya" street. after that, many famous people were gathering at the salon of Alexandra Smirnova-Rosset: M.S.Schepkin, V.G.Belinski, A.K.Tolstoy and Pushkin. it is well known that in there, the great poet has read "Story of Pugachov".
Nikolai Mikhailovich has helped Pushkin during his financial difficulties. in the list of Pushkin's creditors, there was 5000 ruble that Smirnov gave to him. after death of Pushkin, the money was returned to Smirnov by trustees. in 1850, with the support of Alexandra Osipovna and her husband, the comedy "by the half-wittery" was played in Kaluga theatre. it was played twice, in january 11 and 20, and then was stopped, as it was prohibited by censure the governor received special telegram about it.
During many years, Alexandra Rosset was in a friendly relationship with N.M.Gogol. in 1849, Gogol visited Kaluga and stayed in Bogichevo Medinski District. there, he was working on the second volume of his book "Dead Souls." there he recited some of the fragments from his second book. Alexandra Smirnova was often present during these readings. in the opinion of some literary specialists, the author has used episodes fom Kaluga life in his work.
During 1835-1837 Nikoloz Smirnov was a member of Berlin's Russian mission; since 1839, he was working as a epmeror's court marshal; since 1842, he was an advisor in ministry of internal affairs; since 1854, he was a chamberlain; and from 1854 to 1851, he was a civil governor of Kaluga.
During  1851-1855, he was working again in ministry of internal affairs; in 1855-1861, he became governor of St.Petersburg. he moved to Moscow in 1861 and became senator. after that, he worked in second department of criminal law; also worked at ministry of external affairs in Florence, had stable and 18 horses. some people have said that he made an impression of spoiled child. he was pale-faced and uncomely. some people also remember that he used to talk smugly and cockily. Alexandra Smirnova-Rosset wrote in her memoirs: "at first, i liked Smirnov, but was saddened by his dishonorable actions, and as for more intimate relationship, we do not love each other."
Their relationship can be seen clearly in her saying, that she "sold herself for the sake of her brothers." Pushkin, too, has commented, that her husband, with his manners and arguments, worsened her situation.
Nikoloz Smirnov managed to gather impressive collection of Italian painters during the years of his work in different countries. still, because of gambling, he lost quite bit of his property.
Smirnov met Pushkin in 1828. they were, although not very close, but still friends. Smirnov passed on his lacinical, but valuable memories about Pushkin.
In 1867, Nikoloz Smirnov retired and spent his late years by Petersburg and after that in his estate, Spasko Bronnicky District by Moscow.
Nikoloz Smirnov died in St.Petersburg in march 4, 1870. he is buried in Moscow Donskoy Monastery, around the altar.